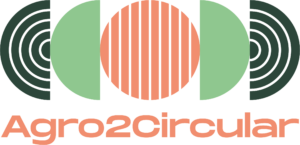 Agro2Circular (A2C) project is focused on the implementation of the first territorial systemic solution for the upcycling of most relevant residues in the agrifood sector (fruits& vegetables and plastic multilayers) into high added value products, powered by a digital tool and constructed upon a systemic approach with high replicable/scalable potential. Through this solution, A2C will face important industrial, economic & social challenges in the agrifood sector:
1) The fruits & vegetables (F&V) are the group of major contribution to food waste along the food supply chain rising up to > 40% of waste, and are as excellent source of natural bioactives. However, these F&V wastes are not exploited. A2C will valorise them by green routes to obtain these bioactives for the production of nutraceuticals, functional foods, and cosmetics.
2) Multilayer plastic films are widely used as industrial packaging for the protection of food and agriculture for crops due to their unique barrier properties. However, there is a lack of sorting and recycling technologies for an economic and environmentally sustainable valorisation of these multilayer structures. A2C will develop the first recycling value chain for post-industrial multilayer films based on a synergistic approach combining innovative sorting, physical delamination, enzymatic depolymerisation, decontamination & mechanical recycling.
3) There is a lack of digitalisation in the agrifood sector. A2C will implement a Data Integration System (DIS) as a digital tool for ensuring traceability and as Predictive Decision Tool in the agrifood sector. A2C will be demonstrated in the Region de Murcia (Spain) and will represent a replicable systemic solution throughout Europe for the territorial deployment of the circular economy.
For more information: https://agro2circular.eu/